Alter Pheyden

Pheyden Alternate
Vital statistics
Name
Alter Pheyden
Species
Traveler
Origin
Unknown
Character History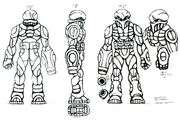 "Remember I mentioned that the tale of Mister Christmas
[1]
had a little more to it? It actually started with this project, which was truly a strange one. I was going to keep this story eternally in the vaults, but what the hell, 'tis the season after all.
See, the polystone subject had come up one time before we went to China in September of 2010. In fact, I worked with one of the sculptors that Mister Christmas employed (I didn't know the connection at the time) to make what was eventually dubbed "Alter Pheyden" (Pheyden Alternate at first, which is kind of an end game Hades). The catch was that to speed up the process, the figure had to be put together over there. It was also a test to see how our counterparts could handle sculpting my designs, since my bad eye was worsening, which made sculpting slower and kind of rough (I've since figured out how to work with it more efficiently over the years).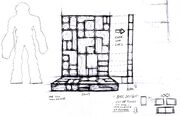 The initial attempts were a combination of cool and frustrating, due to certain interpretations of my weirdo style not coming into focus, especially around the head. After multiple communications, I finally just said take a shot, and the figure was approved for a polystone test run. I actually received 3 of them, and only three, as review samples. They are true "close but no cigar" executions that are among the rarest things to have ever been produced during our time making Glyos stuff. The figure never went into full production.
A base was also made, which is still kind of neat."[2]
"What an odd trio. Kind of big as well. The colors were based on the first run of Pheyden, with a
Gear's Edge
finish on the beige test type. The finals would have been fully painted, with color applications far exceeding our PVC stuff in complexity.
When I look at these figures I initially really like them, then I start to pick them apart. They are sort of interesting in their own little way. It's especially cool to hold a Pheyden that is at a larger size., because it feels so counter to everything we've done.
I sometimes think about taking a complete detour and making an old school super poseable Toy Biz style Traveler, maybe with tons of strange joints and piles of layered plastic armor. Then it passes and I realize that it would be insane to go down that road.
But it's also kind of tempting."[3]
References
Community content is available under
CC-BY-SA
unless otherwise noted.