Block Base Cerberus

The Base that Hades Built
Vital statistics
Type
Base
Location
Unstated
Capital
Unstated
Inhabitants
Hades
Story
Netherworlds
"Left drifting near the Edge of Space after a near fatal confrontation with Argen and the combined might of the Gendrone Ultra Corps and Spectre Force, Hades prepared to fall into the endless black of the beyond.
Just as he began to make his final journey, the beaten Traveler suddenly awoke on a strange new world, surrounded by extraordinary wildlife and a vast ocean. Hades had been teleported to the Planet Sollnoria, saved by the Varteryx for reasons that would soon become clear."[1]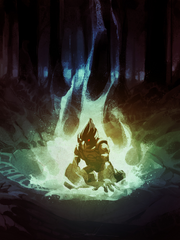 "With Glyaxia Command pushed to its limits and on the defensive, the combined Armorvor Armies swiftly establish outposts across the worlds of Volkria, Sonesidar, Reydurra and Rilleco, crushing any opposition through the use of their powerful Black Core technology. The Lost Children of the Delphi now stand on the edge of reclaiming what they believe is their collective birthright ... the entirety of the Glyos System.
However, not all the children of the Delphi wish for war and conquest. From a glimmering star far beyond reach, emissaries from a mysterious race called the Varteryx appear before Glyaxia Command, led to the Capital Planet Metran by the enigmatic Traveler know as Hades. Benevolent creatures not unlike their creators, the Varteryx share their advanced discoveries with Glyaxia Command in an effort to balance the scales against their aggressive brethren, the Armorvors and Neo Granthans.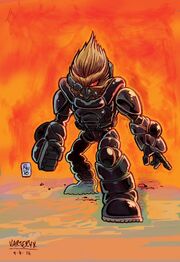 Joining forces with the most advanced thinkers on Metran, the Varteryx and Glyaxia Command unite to create the Glyarmor aboard Hades' Block Base Cerberus. Greatly augmenting a user's natural abilities through a psychic fusion to the armor itself, the Glyarmor also serves as a direct countermeasure to Black Core technology.
Employed by the Elite Enforcer Units of Glyaxia Command, select Travelers meld with the newly developed Glyarmor to evolve into a previously unseen Neo Sarvos form.
Now with a small measure of hope restored and a reforged resolve, a battle-worn Glyaxia Command slowly rises to settle the score."[2]
Retribution
"Alone and with no path back to the bonds of the past, the once great allies face each other within the solitude of Block Base Cerberus, determined to finally decide who shall stand and who shall fall."[3]
Never Look Back
Aftermath
"Following the fateful events that took place on Block Base Cerberus, the deactivated remains of Argen were quickly brought before Glyaxia Command to be dismantled and analyzed."[4]
References