Fisher Price

Childhood Inspiration
Vital statistics
Name
Fisher Price
Species
Toy
Origin
Earth
Details
Fisher-Price Adventure People -- specifically the Space-themed figures -- were the running Mystery Figure theme of 2017 from Onell Design.
"The Fisher Price Adventure People line was one of the greatest damn piles of plastic that ever went into production. It still inspires me to this day with almost everything I do regarding toy development. What a play pattern those toys had."[1]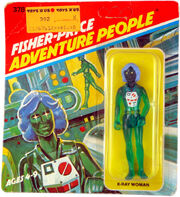 "Playing with these new colors brings me right back to the late 70's, having tiny adventures under the beds of our old house in Maine.
I love when the detail lines are on everything, but I've come to equally love the pure toy look that happens when the molds are just run with some minimal spray applications and a few tampos.
The Adventure People vibe I get when handling these is kind of crazy, particularly on the DSGs. They've hijacked my Alpha Probe for multiple unauthorized missions since arriving."[2]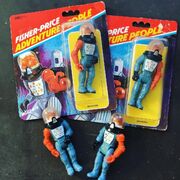 "These particular color selections pay homage to some of my all time favorite figures from the classic Fisher Price Adventure People line. Can you guess which ones? The detail lines were left off of this run to try and capture that pure "toy" feeling from the old days. Man does that golden orange pop on the pure white! The hue is a close cousin to Glyaxia yellow, with a dash more orange."[3]
"As mentioned before, the old Adventure People line is the main inspiration for this assortment. The simple color schemes, durable figures and fantastic vehicles (like the Firestar 1) have influenced many toy lines over the years, particularly the one we have here."[4]
"Adventure People had all the right elements perfectly combined. The simplicity of the designs coupled with the awesome color choices gave it a very distinct feel. The vehicles just put it over the top. I guess my favorite things were from the Space assortments, with Clawtron taking the throne."[5]
Gallery
2017 Mystery Series
2018 Mystery Series
What If Expansion
"Prepare for some expanded exploration of said theme, focusing on a "what if" iteration that starts to build upon the original AP homages."[6]
Adventure People
Imaginext
References
Trending pages
All items (32)