Alternate Pheydens

I am you and you are me. We are alone, but not alone. We are trapped by time, but also infinite. Made of flesh, but also stars.
Vital statistics
Name
Alternate Pheydens
Species
Traveler
Origin
Unknown
Details
"People assume that time is a strict progression of cause to effect, but actually from a non-linear, non-subjective viewpoint - it's more like a big ball of wibbly wobbly... time-y wimey... stuff." - Doctor Who
Story
Alternate Pheydens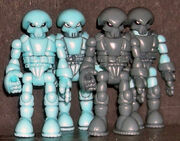 "Owing to his ability to travel through the
Edge of Space
and phase throughout time,
Pheyden
has actually split into many versions of himself. He exists simultaneously in many different realities and sometimes even works with these alternate versions of himself if the need should arise. Each Pheyden has his own personality, but still follows the code of keeping infinity in order.
Scar Pheyden
was called to
Eidrallis
to assist the first Pheyden in containing a viral outbreak that was driving the Eidrallim to destroy one another. Having phased from a reality that was harsh and chaotic, Scar Pheyden was a natural choice for dealing with the suddenly violent climate of planet Eidrallis. Mounting a Claw Crawler, he readies for an inevitable clash with the normally peaceful
Eidrallim
."
[1]
References
All items (8)
Community content is available under
CC-BY-SA
unless otherwise noted.