Clandestine Operations


Lore
Released
Various
Story
Matt Doughty
Location(s)
Various (Glyos System)
Character(s)
Viyer
Faction(s)
Various
Details
With the events starting in Soul of the Traveler, Viyer has continually become more and more independent of Glyaxia Command to achieve his own personal goals. The Gatekeepers were reborn as the Neo Gatekeepers under Glyaxia before Viyer began to develop his own independent group with the Marezioc Crew and their ship the Edgeliner Marezioc. While there is no official name for this series of factions tying them together, Viyer remains the key to all of them as his personal experiments continue on.
Story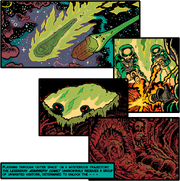 Flashing through "Outer Space" on a mysterious trajectory. The legendary Atarikoth Comet unknowingly receives a group of unwanted visitors, determined to unlock the "Chariot's Keep."
Matching speed with the massive comet, the Edgeliner Marezioc drops off a trained squad. "Let's get down there! This is our chance." commands Evenollus. Leading a pack of well armed Marezioc Guard Protoclones, the team touched down on the comet's rocky surface with ease. Using weapons originally built for other worldly beings, the Guard began blasting into the dense rock surface. "Move swiftly." Evenollus barked at them. He would not let his commander down with this secret mission.
Wrath of the Reborn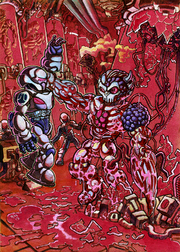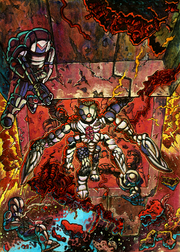 Reemerging from the events surrounding the appearance of the Atarikoth Comet and the devastating Diversus Gate Incident that followed, Gatekeeper Viyer once again turned his focus on the study and genetic manipulation of the most unique and powerful entities found throughout the Glyos System and beyond. Accompanied by his loyal bodyguard and friend, Traveler Evenollus, Viyer crossed through the Zorennor Rift aboard his rebuilt Edgeliner Marezioc in search of the original Villser homeworld, Odravunn, and the untold lifeforms rumored to exist there. However, before reaching their destination, the Edgeliner was attacked by an unknown, cycloptic creature that possessed bizarre and incredible dimensional abilities. After a long and exhaustive battle due to the its extraordinary regenerative properties, the chaotic beast was finally repelled by the brave actions of Evenollus, who suffered near fatal damage in the process of phasing through the monster's body. Desperate to save the life of his companion, Viyer infused Evenollus with a combination of hyper powered Mordireus energy and a captured sample of the very beast that almost destroyed him...[1]
Factions
Independent Factions
References