Jurassic World: Dominion Dominates Fandom Wikis - The Loop
Play Sound
Core Block

Upgrade available!
Vital statistics
Name
Core Block
Species
Glyan
Origin
Unknown
Details
"The Core Blocks have started their journey and preparations for their arrival are underway!"[1]
"The idea of chopping these up to customize might be a horror to some of you, so all black "Buildstation" style vinyl Blocks and parts will be online when these fully painted versions go live next week.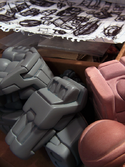 This is still an experiment, so we did not produce a ton of these. If the response is good, then we'll make more for the next drop (sometime in late March). There will be a run of matching Rigs and Rig Runners (Glyan WARP Bikes) available in this wave as well, for those of you still wondering about what the hell the Block is and what it does. Ha!"[3]
Core Blocks are a rare vinyl parts offered in occasional drops made available from Onell Design. Each kit consists of 2 vinyl blocks that can connect to each other and be customized for connectivity with all Glyos vinyl. They can be combined with existing Tri Hub Wedge, Conversion Kit, Switch Pin, and other large vinyl pieces. The average price of a Core Block is $12.
Experimental Mechanics Division
Core Block Experimental Mechanics Division
Experimental Mechanics Division Core Block - Gray and Orange with Black visors/tampo print. $14
Core Block Black
Black Core Block - Black vinyl/no paint. $10
Glyos United
Core Block Zorennor Exploration Division
Zorennor Exploration Division Core Block - Light Gray/Gray with Light Blue highlights and tampo print. $14
Stealth Dimension Division
Core Block Stealth Dimension Division
Stealth Dimension Division Core Block - Clear Colorless/no paint apps. $10
Record of the Delphi
Core Block Task Force Volkriun
Task Force Volkriun Core Block - Pappysoup Green/Olive Green/light green visors and white tampos. $12
The Gamma Conflict
Core Block Hades Traitor
Hades Traitor Core Block - Dark Gray/Black w/ Aqua accents and White tampo print. $12
Glyaxia II
Core Block Glyaxia Command
Glyaxia Command Core Block - Blue Vinyl/Yellow Paint with Black accents and White tampo print. $12
Rig Crew II
Core Block Rig Crew
Rig Crew Core Block - Light Gray Vinyl/Gray Paint with Black accents and White tampo print. $12
Volkriun Space Force
Core Block Volkriun Space Force
Volkriun Space Force Core Block - Green Vinyl/ Gray Paint with Black accents and White tampo print. $12
The Gendrone War
Core Block Sunstorm
Sunstorm Core Block - Pearlescent Yellow Vinyl/ Orange Paint with Black accents and White tampo print. $12
Enter The Glyarmor
Core Block Cerberus Base
Cerberus Base Core Block $12
References