Jurassic World: Dominion Dominates Fandom Wikis - The Loop
Play Sound
Elder Exellis

Genesis Corps
Vital statistics
Name
Elder Exellis
Species
Sincroid
Origin
Unknown
Details
Elder Exellis is an older, more grizzled version of Exellis. He reforms the Lost Sincroid Army to start fixing years of damage inflicted by the LSA across the Glyos System during their long search for Exellis.
Story
Elder Teachings
"This current version of the LSA (Standard Lost Sincroid Army and Granthan Corps Lost Sincroid Army) was resurrected by Elder Exellis to right the many wrongs that the original LSA had done."[1] "They should really be called the New Sincroid Army, due to Exellis finally assuming command of something that always stood against what he believed Sincroids should be. Glyaxia Command have been working on a dark project which became the impetus behind the LSA finally coming together with their long sought after and enigmatic leader."[2]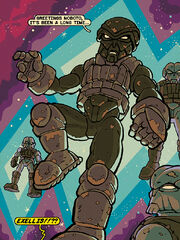 Finding a safe collection of asteroids far from the battle now, Gobon laid his partner down gently. "Easy, I've got you." the Gobon soothed as he healed Noboto's torn shoulder. "Of all your tricks..." the Noboto said appreciatively, "this is the best one." Resting in a peaceful part of the galaxy without worry again, the Noboto couldn't help but review the events of their day. "That didn't go as well as I'd hoped." The Gobon just "Hmmm..." in agreement.
A faint blue bathed over the pair and space began to open. "Now what?" Noboto sighed.
"Greeting Noboto, it's been a long time..." Before them was someone Noboto hadn't seen in a very long time. "Exellis!!??" the short trapper exclaimed. Before the pair floated Elder Exellis and the Lost Sincroid Army.
"Elder Exellis recently spent some downtime exploring The Cliffs of Granthan."[3]
Enigma Source
Genesis Corps
The Ecroyex Initiative
Neo Eclipse
Black/White with painted eyes, removable belt and bonus Lost Sincroid Army head. $8
The Gamma Conflict
Gendrone Ultra Corps
Ultra Silver w/ painted eyes, removable belt and bonus LSA head. $8
The Sendollest Drifts
Sendollest Guard
Ultra Bronze w/ painted eyes, removable belt, Lost Sincroid Army head, Dark Traveler head/ scarf/ inner scarf. $8
The Manglor Mutation
Bio Hunters
Gunmetal Silver w/ painted eyes, removable belt, Lost Sincroid Army head, Dark Traveler head/ scarf/ inner scarf. $8
The Gendrone War
Gendrone Imperium
Metallic Teal Blue w/ Red eyes, removable belt, LSA head, Dark Traveler head/ scarf/ inner scarf. $8
References