Story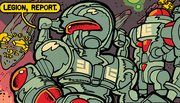 Urballim Sector, near the
Edge of Space
. Hidden away among the massive chunks of asteroids lies the secret location of
The Council Of Travelers
. Awaiting outside as a protective guard,
Argen
and his Gendrone Legion stand ready to push back any
Glyaxia Command
interference. "How long will they be in there?" Argen's bored
Gobon
Cerberus
companion asked as they stared at the black vortex of the entrance. "Time is different for
Travelers
," Argen responded, "they could be a while in those shadows..." Feeling a moment of caution, Argen decided to check in with the other scouts in the field. "Legion, report."
Lazily kicking back, a Legion Glyan and his Deep Space partner reported in first. "Still quiet here, just..." VRIIIIIII... The faint glow of a warp signature formed behind them. A single eye purposely staring at them intently. "Huh?" was all they could manage before their advanced flexion suits tore away followed by their skin...
Gallery
Metallic Approach
Hierarchy
Gendrone Legion Command
Gendrone Legion Members
References
Community content is available under
CC-BY-SA
unless otherwise noted.