Story
"The version of Maxx Zero shown above is meant to explore the possibility that perhaps some members of the Robo Force may have ventured into the Glyos System at some point. Or, maybe some Gendrone tech was stolen by an unknown agent of Nazgar, on a mission to gather new potential weaponry to be used in multidimensional conquests."[1]
I imagine that when in this configuration, Argen is capable of operating at incredible speeds, flying with a precision and velocity difficult for even the most experienced Gendrone Hunters to keep up with. This more compact battle mode is now favored by Argen for most combat missions, due to him spending a great amount of time training and evolving under Phanost's guidance.[2]
"Phaseon Enyriun serves as one of Argen's main officers in the growing Gendrone Rebellion. Utilizing Phase Technology, Enyriun regularly reconfigures its structure, augmenting specific abilities to better insure total mission success. The Arch Phaseon formation is the preferred mode for most long range solo operations."[3]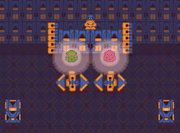 "Commander!" a Glyan shouted, "We are under Gendrone attack on the far side of Block Base and sustaining heavy damage. Please send reinforcements at once!!!" The Rebellion had come to their doorstep.
"Let's move! Prepare for Warp!" quickly ordered Akurriax.
Hierarchy
Gendrone Rebellion Command
Gendrone Rebellion Members
References