Story
Genesis Corps - a division of the Lost Sincroid Army.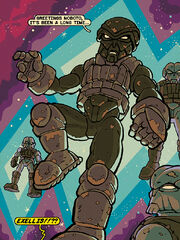 Finding a safe collection of asteroids far from the battle now, Gobon laid his partner down gently. "Easy, I've got you." the Gobon soothed as he healed Noboto's torn shoulder. "Of all your tricks..." the Noboto said appreciatively, "this is the best one." Resting in a peaceful part of the galaxy without worry again, the Noboto couldn't help but review the events of their day. "That didn't go as well as I'd hoped." The Gobon just "Hmmm..." in agreement.
A faint blue bathed over the pair and space began to open. "Now what?" Noboto sighed.
"Greeting Noboto, it's been a long time..." Before them was someone Noboto hadn't seen in a very long time. "Exellis!!??" the short trapper exclaimed. Before the pair floated Elder Exellis and the Lost Sincroid Army.
Hierarchy
Lost Sincroid Army Genesis Corps Command
Lost Sincroid Army Genesis Corps Members
References
Community content is available under
CC-BY-SA
unless otherwise noted.