Jurassic World: Dominion Dominates Fandom Wikis - The Loop
Play Sound
Glyaxia Ivorinium Elite


Faction
Faction
Glyaxia Ivorinium Elite
Division of
Glyaxia Command
Species
Glyan
Origin
Various
Command
None
Rival(s)
None
Story
Glyaxia Ivorinium Elite - a division of Glyaxia Command.[1]
Still observing from afar, Commander Viyer was taking mental notes. "Impressive. This Proto Sincroid moves and fights like a Traveler, yet possesses a unique energy signature in its powered form. This display of power will not go unnoticed by Glyaxia Command for very long..." Space around the continuing fight started to shimmer. The faint logo of Glyaxia Command was forming from the warp signature. "...not very long at all."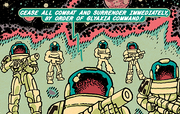 The Glyaxia Ivorinium Elite had arrived. "Cease all combat and surrender immediately, by order of Glyaxia Command!" Six well-armed Deep Space Glyans from Glyaxia Command's special division had arrived to see what the ongoing commotion was.
"Glyaxia?" the Noboto observed, "All the way out here?"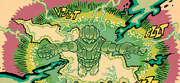 "Unlock Rift Channel. All units prepare for breach." commanded the lead Glyaxia trooper. Noboto looked worried and rightfully so as a massive warp breach formed in front of all of them. Soaring out from the tear in space, something new... something dangerous... something dark... The green Traveler raised his hand and stunned Noboto, Gobon, and Sullonev all in one easy swipe. Stunned, the Noboto began to take notice of how much trouble they were in, "That's no ordinary Traveler..." Looking to Gobon, the Noboto paired up for the next crucial move if they were to survive. "Shield lock!" The Dark Traveler barreled towards the trappers as their pink forms glowed outwards forming a barrier shield. Sullonev was on his own as he was easily knocked out of the way of the charging Glyaxia Command experiment as the green Traveler aimed toward the locked pair.
"Whatever you are, it will take more than that." the Noboto challenged.
Hierarchy
Glyaxia Ivorinium Elite Members
References