Glyos System Series

Fit Function
Product Line
Product Line
Glyos System Series
Company
Onell Design
Species
Traveler, Sincroid, Gendrone, Glyan
Origin
Glyos System
Main Character(s)
Pheyden, Phanost, Argen, Noboto
Faction(s)
Glyaxia Command, The Council Of Travelers, Armorvor Armies, Gendrone Empire, Villser, Lost Sincroid Army
Also see
Bit Figs, Bit Pins, Warp Zone, Passcode, Glyosynth
Details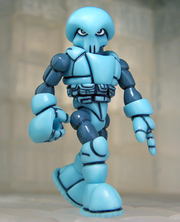 The Glyos System Series is a line of toys produced by Matt Doughty and Michelle Doughty of Onell Design and sold exclusively on their website[1]. These three inch tall figures populate the Glyos System and feature a simple peg & socket joint system known as the "Fit Function" that makes them completely interchangeable with one another, allowing for limitless build options. Their flagship character and mascot, Pheyden, can be found in almost every wave produced: Onell Design Release Wave list.
Onell Design Releases
Figures
Others
Vinyl
Figures
Vehicles
Features
Exclusives
As with many other independent toy lines, the Glyos System Series has its fair share of exclusive releases. However, unlike some other series, Onell has found two unique outlets for exclusive content.
These include:
Collaborations
In the relatively short time that the line has been around, there have already been a few collaborations with other artists in the urban vinyl scene, with more being announced.
These include:
The 1" Line
Prior to the launch of the Glyos System Series, a smaller scale minifigure series was produced in limited numbers, often being sold at conventions. Though Matt Doughty has expressed an interest in returning to the earlier line, there has yet to be a production line of these smaller figures.
Bit Figs
In 2016, Marc Beaudette launched a nationwide rollout of the Bit Figs line as 1" capsule toys with family-run vending company SSM Vending and through Marc's Culture Pirates shop.
References
Community content is available under
CC-BY-SA
unless otherwise noted.