Gol

Creatures of the Water
Vital statistics
Name
Gol
Species
Gol
Origin
Earth
Details
The future of Earth is a Timepocalypse nightmare and rising up from the deep are the Gol. Fierce warriors in and out of the waters around Wor.
Character History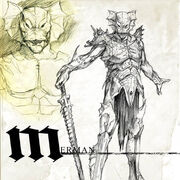 "
Bog-Nar
and the
Nekroid
were already established characters in the
Warlords of Wor
mini-comics, but Gol is an original character created specifically for the new toy line. I needed a third head for the set, so in keeping with the swampy, muck creature theme, I decided to resurrect a long-shelved project and breathe some fresh life into it.
Six years ago I started sculpting a mask for a Mer-Man costume. A lot of the influence for my design came from the art of Marko Djurdjević[1], who had done some insane MOTU re-imaginings. The project ultimately ground to a halt and a mask was never produced from the sculpt.
When designing parts for the Bog-Nar set, I went back to that sculpt to bring a "lagoon creature" into the world of Wor. Pictured then is my original sketch of Gol, the digital sculpt by Simon Grell[2], the first factory test shot, an early color mechanical (note the different spot pattern), and the final product (beautifully shot by Matt Stein)."[3]
Gallery
References
Community content is available under
CC-BY-SA
unless otherwise noted.