Harbor Noir

Hard-boiled
Vital statistics
Type
City
Location
Earth
Capital
N/A
Inhabitants
Golden Richard
Details
A section of future Chicago flush with money and growing crime. Picked as the future home of a Space Elevator.[1]
Story
Bolinger Burton
"Bolinger Burton, the acting member of the KOTS designated "Teal", has had a little hobby for several years now. Utilizing the extensive surveillance of the Fred Foods corporation, he's been looking for the man who bested his father back in the 90s. And today, it looks like he's finally zeroed in on the man called "Krosszskulls". Putting on his father's old fatigues, Burton sets out to avenge his family's legacy.[2]
Krosszskulls
Anton Polyakov Krosszskulls, hiding out in a derelict building in the US of A, makes the mistake of ordering a pizza for delivery.[3]
Rebel
Former vigilante turned Vector tourist, Rebel returns to earth to find all his friends are dead. Needing new replacement arms, our boy in blue decides to take up some work to pay his medical bills. First stop - check out Harbor Noir and see a local detective called Golden Richard.[4]
Golden Richard
Missing person? Cat stuck in a tree? Call Harbor Noir's premiere private eye - Golden Richard to help.[5]
Heart Knight in Harbor Noir
Heart Knight is a fixer for the Fred Foods corporations, known to only a few at the company. A hatchet-man you can give your dirty little jobs too, Heart dispatches foes with a cold precision and never asks questions. Sent to meet King Zog in Harbor Noir, the last thing Heart expected was to fall in love...[6]
King Zog
King Zog handles banking and market manipulation to help aid Marson and the Trilobyte Kingdom's goals. Not content to just push a calculator, Zog is a ruthless enforcer and no slouch with weapons. Dispatched on a mission to meet in Harbor Noir with a rep from Fred Foods, the last thing Zog expected was to fall in love...[7]
Johnny Heart
Dispatched to Harbor Noir, Johnny has to disrupt and exterminate an influential meeting between King Zog of the Hyper Knights and Heart Knight from Pizza Shunt.[8]
Suitman Slick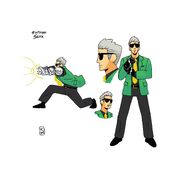 A bad dude infiltrating the Suitman gang of Harbor Noir, Kyle Slick has secret objectives and a dangerous double-life. His cybernetic arm houses a deadly cannon that can decimate reprobates in a single shot.[9]
Mininborg
A cyber-punk for hire, the Mininborg has a reputation for himself on the streets of Harbor Noir. A chance encounter puts him on Golden Richard's radar, for better or for worse.[10]
Cervenger
An android programmed with the memories of the Cerulean Hyper Knight, Cervenger hunts down anyone related to the Trilobyte King army and executes them in the streets of Harbor Noir. This puts our good friend Golden Richard right in Cer's crosshairs![11]
Featured
References