Hun-Dred

The Conqueror
Vital statistics
Name
Hun-Dred
Species
Zetonian
Origin
Zeton
Details
"Arch-enemy of the Robo Force and the leader of the evil robot empire, HUN-DRED™ has laser guns, crushers for hands and a killer instinct. HUN-DRED™ is a crude, cruel robot warrior-for-hire. He has but one sense: the ability to sense fear. Destruction is the fate of anyone - or any thing - that stands in his way. He does it with a powerful personal arsenal - pop-up laser weapons are concealed beneath his snap-out weapon hood, and he is expert in the use of his twin hand-held attack weapons." From the original file card.[1]
Character History
A Running Theme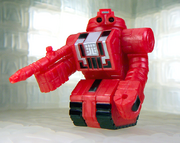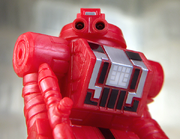 "A theme running in the background across all the Glyos related lines is crossover. Because all of the creators are fans of each other, the notion of finding doorways that bridge the different worlds is very appealing and employed more often than you might think. 2014 will see some cameos from a few familiar characters popping up in some unexpected places.
The version of Maxx Zero shown above is meant to explore the possibility that perhaps some members of the Robo Force may have ventured into the Glyos System at some point. Or, maybe some Gendrone tech was stolen by an unknown agent of Nazgar, on a mission to gather new potential weaponry to be used in multidimensional conquests.
Wherever your imagination takes you, that's the place to be..."[2]
Behind the Scenes
"This was one that was percolating behind the scenes for a while. I mean, Classic Hun-Dred was an absolute must for the collections. There was a question on how to do him properly at first - run each mold in the colors and then do some painting, or to go with the approach we wound up using where we painted the figure in the appropriate places. We chose the latter to give more control over how the figure would look...it's very hard to match paint and molded plastic (as many fans of MOTU Classics could attest!) so we went with the paint method. I hope everyone likes it!"
[3]
Story
See: The Return of Robo Force

Versions
Reforged Edition
Kit includes the standard 41 piece complement of Glyos compatible parts - now with over fifty paint applications and one secret Gendrone symbol. Reforged Edition Hun-Dred was released on December 20, 2013 along with Origin Edition Enemy.[4]
Production PVC Robo Force Maxx Kit. Hun-Dred - Reforged Edition. Metallic Red (Gendrone Rebellion) with Black/Silver paint applications. New Gendrone Rebellion faction tampo. 41 total parts. Released on December 20th, 2013. $18 each.
Classic Edition
"Standard forty-one piece fully Glyos-compatible Robo Force® kit - at last! Hun-Dred in his classic colors - the Cult of Dred has its leader finally."
Production PVC Robo Force Maxx Kit. Hun-Dred - Classic Edition. Black with multiple paint applications. New Cult of Dred faction tampo. 41 total parts. First released at New Jersey Comic Con on August 12-13th, 2017.[5] Released online on August 20th, 2017. $25 each.
Additional Modes
Hun-Dred Regenesis
"Matt has been a long-time friend and I love this product. There was really no other way I wanted to bring these characters back other than as part of the Glyos System. It all started with a drawing, which you'll see soon here and on the main Glyos blog, a little over a year ago. My main direction to Matt, who is the true architect of this figure design, was simple: Make Robo Force Glyos. Later, I insisted that Hun-Dred, Sentinel, and Enemy be part of the design, as well as Hun-Dred's signature claws."[6]
Alloy Elite Mode
"Trooper, clone, or the real deal? Fun pic from Matt Doughty, showing a potential version of Hun-Dred that can be built if you have the previously released red (Hun-Dred) Robo Force kit, the Ultra Silver (Sentinel) kit, and the new Battlestar kit."[7]
References