Kabuto Mushi Mk1

UV Resistant Urethane Warriors
Vital statistics
Name
Kabuto Mushi Mk1
Species
Beetorian
Origin
Sectivorus
Details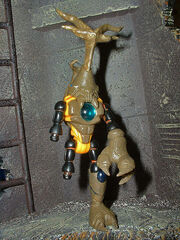 Resin hand casted UV Resistant Urethane items. Offered at random times in the store and at conventions. The listings are just to note the types colors available and not every single listing or color variant released. All items are Limited Edition and have varying numbers available with each color release. Parts are Glyos compatible.
Approximately 4 1/2" H x 1 3/4" W & cast in UV resistant urethane. Comes packaged in a clam shell snap bubble w/ card art by Nathan Newell of Dork Dimension! Assorted colors made available. 10 total parts. Limited Edition. First released 2011. $110 each.[1]
Versions
Beetorian
Brown
Grey
Kabuticon
Kamen Kabuto
Metallic Black & Green
Metallic Green
Metallic Red & Blue
Stealth
Thermo Chameleon
References
Community content is available under
CC-BY-SA
unless otherwise noted.