Nillin

Outpost Odesskar Commander
Vital statistics
Name
Nillin
Species
Traveler
Origin
Unknown
Story
Outpost Odesskar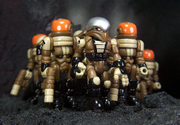 "With bold yet tempered authority, Commander Nillin sternly oversees the rigorous operation of Outpost Odesskar.
Assigned to monitor and secure all activity within the dimension bending Vector Triangle, the majority of Outpost Odesskar's personnel are selected specifically for their rare ability to function normally within the Vector Triangle itself.
Those not possessing this special immunity inevitably begin experiencing strange hallucinations when they enter the Vector, haunted by the overwhelming feeling that they are slowly being pulled into an alternate reality beyond all comprehension.
This so-called "Vector Effect" seems to have no noticeable influence over either Travelers or Sincroids."[1]
Neo Tracker Unit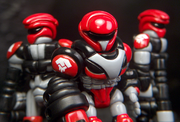 "Tasked by Glyaxia Command with the investigation of a mysterious disturbance near Outpost Odesskar, Tracker journeys with two specialized Glyan Commandos to the remote destination, located just inside the classified "Vector Triangle"..."[2]
"Specially trained in the the esoteric discipline of Dimensional Relativity and biologically augmented to operate at a Traveler's pace, the Glyans selected for duty within the Tracker Unit are some of the rarest soldiers in all of Glyaxia Command.
Though they represent the very best of the Glyan Forces, Tracker is secretly wary of his new partners, harboring suspicion about their true mission objectives."[3]
Into the Vector
Commander Nillin
14 total parts. $10 each.
References
Community content is available under
CC-BY-SA
unless otherwise noted.