Jurassic World: Dominion Dominates Fandom Wikis - The Loop
Play Sound
Story
Point Cerrek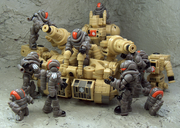 "Glyans assigned to the Esedeth Mobile Patrol undergo extensive training aboard the militarized space station known as Point Cerrek, located just above Planet Esedeth's atmosphere.
Within Point Cerrek, select Glyans learn how to operate the newly developed Glyarmor and Variable Reflex Drivers in controlled environments, all under direct Traveler supervision. These soldiers also take part in a specialized OTR virtual program in conjunction with intense mental and physical conditioning.
The Esedeth Mobile Patrol stands as the first division to incorporate both VRD tech and non-Traveler Glyarmor use."[1]
Sector 7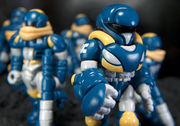 "Trained within Sector 7 on the Point Cerrek Space Station located above Planet Esedeth, Glyaxia Rangers are each granted access to a highly classified dossier known as the Hades File upon graduation from the Ranger Program. It's rumored that this file contains an "Alternative History" of the Glyos System, revealing to its reader what truly lies behind the shadow of Glyaxia Command."[2]
Task Force Volkriun Reforged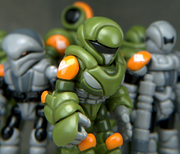 "Responding to an urgent distress signal sent from the Point Cerrek Space Station located high above Planet Esedeth, Task Force Volkriun mobilizes under the new leadership of the formidable Commander Vulldren. Outfitted with the latest Variable Reflex Driver technology and tactics, the battle hardened unit stands prepared for the worst. Reforged and sworn to never let their legion fall to ruin again, they forever honor the many brothers they lost at the Siege of Volkria. But will their collective might alone be enough to challenge the true enemy of the Glyos System?"[3]
References