Rebel Cunning

The Old Hero
Vital statistics
Name
Rebel Cunning
Species
Human
Origin
Earth
Character History
Jesse DeStasio
Rebel is the first Old Hero getting introduced, he's based on a drawing I did when I was maybe 7 or 8 years old. As you can imagine, it's a thrill to be able to translate an idea I've had for 30 years into something tangible I can share with others.[1]
Story
Origin Story: Rebel Knight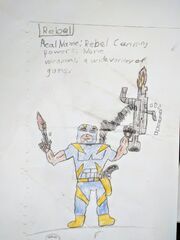 A young veteran of the Food Wars, Rebel came back to the civilian life without a place in the world when he returned to Brownsville, NY. Unemployed and starving, he took to costumed vigilantism. By robbing petty criminals at gunpoint, he not only cleaned up the streets, but he also filled his coffers. Morality means little to a man who served his country and still can't get ahead.
A mysterious invitation brings rebel to an abandoned ice cream shop on Coney Island, where a re-purposed Knight of the Slice servo suit awaits him. Someone even took the time to spray paint the costume to look like his official outfit, how nice! The suit is accompanied only by a note saying "Cause some trouble for the K.O.T.S."
An avid gun collector, Rebel Knight has a vast armory of weapons that accompany him on his missions to clean up the streets. This prized firearm is the french bullpup-style FAMAS, which he has named Hector.
His love of the rifle started as a kid, when he played the antique video game "Call Of Duty" the old fashioned way-- without a 4th dimensional projector or any of the stim-haptic feed suits.
Upgrades
After crossing the Nobody Knight, Rebel is nearly vaporized by the celestial being's psionic beam attack. Apologizing for his brother's short temper, Nebula Titan uses his healing ability to rebuild Rebel into his new Upgraded version!
Harbor Noir
Former vigilante turned Vector tourist, Rebel returns to earth to find all his friends are dead. Needing new replacement arms, our boy in blue decides to take up some work to pay his medical bills. First stop - check out Harbor Noir and see a local detective called Golden Richard.
Versions
Rebel Knight
Purchase includes one Rebel Knight, One Pizza Slicer Hand, One Hat. 3 3/4" tall with 10 points of articulation. 18 total parts. Released September 28th, 2017. $13.00 each.
Be sure to check out his Famas rifle, made by Marauders Inc., for sale separately!
Upgraded Rebel Vector Jump
Production Knight. PVC Armor. Upgraded Rebel Vector Jump. 3 3/4" tall. 17 total parts. Released on February 12th, 2018. $18 each.
Rebel v3
Production PVC KOTS Star Marshall figure - Rebel v3. Blue with paint applications. Includes alternate head and weapon. CyMa arms instead of Star Marshall arms. 3 3/4" tall. 11 total parts. Released on February 15th, 2021. $23 each.
Accessories
FAMAS Rifle "Hector"
One superior & highly detailed custom weapon from Marauder Gun Runners Series #4. Accurate 1:18 scale recreation of the FAMAS "Bullpup" Assault Rifle. Features authentic details and classic styling. Scaled for use with all 3 3/4" Figures. Weapons measure approximately 1-5/8 inches long. Released by Toy Pizza September 28th, 2017. Made by Marauder Inc.[2] $1.00 each.
References
Community content is available under
CC-BY-SA
unless otherwise noted.