Regen Capsule

Special Carrying Cases
Vital statistics
Name
Regen Capsule
Species
None
Origin
Earth
Character History
Regen Capsules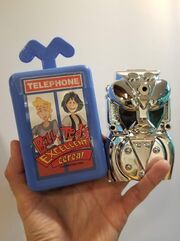 "You probably think you know the homage behind the Regen Capsule (on sale this Monday, 6/24), but there is another inspiration point. In the 80s, the Bill & Ted's cereal was shrink wrapped with a free phonebooth / cassette tape holder. One of the greatest premium toys ever, and it doubled as a transport for Gi Joes & other figures.
David White did a killer job with rendering the concept and making my idea a reality. The Regen can fit two Knights & a bunch of accessories, so it's the perfect on-the-go-container. Also holds an entire bowl's worth of dried cereal."
Versions
Regen Capsule Carrying Case
"A gift from the Mikros world, the Regen Capsule is an advanced piece of technology given to humankind to help regenerate their injured warriors who fight for good. By donning Blue Regen Chromium Armor, then placing the wounded Royal Knight into the Capsule, the EPD Trio was able to save his life by merging him with Device Ninja parts.
BONUS: Each capsule contains a random clear, unpainted material boy in either Lime, Brick, Purple, or Teal. Sorry, we cannot accept requests for specific colors.
Capsules can hold up to two figures plus accessories, making it the perfect on the go carry-all."
Plastic carrying case with Chrome shell. Released on June 24th, 2019. $30 each.
Regen Sunlight Capsule Carrying Case
"Adds +6 Attack to Jolly Co-operation.
Infused with the direct power of Sol, the Sunlight Capsule is a powerful tomb that can super-charge any KOTS with blinding solar energy."
Plastic carrying case with Translucent Yellow shell. Patreon exclusive. First shown publicly on June 20th, 2019 as a new Patreon subscriber reward for July/August 2019.
Regen Forest Capsule Carrying Case
"The Forest Capsule is a mysterious sarcophagus that can imbue Knights of the Slice with special powers once they lay inside. While the extent of the powers are unknown, users report feeling very "chill" after exiting. Some speculated the capsule increases stealth and allows for a supernatural blending in with surroundings... but this is unverified."
Plastic carrying case with Translucent Green shell. Released at Toy Pizza Con and online on July 13th, 2019. $16 each.
Regen Water Capsule Carrying Case
"The Water Capsule is theorized to give Knights the "UV POWER" a color change that allows them to breath under the water and resist the incredible pressures below the ocean."
"Stores 1-2 Knight of the Slice figures and their gear for easy inter-dimensional travel through the Vector."
Plastic carrying case with Translucent Blue shell. Released on August 5th, 2019. $15 each.
References
Community content is available under
CC-BY-SA
unless otherwise noted.