Rex Ganon

The Indestructible Man
Vital statistics
Name
Rex Ganon
Species
Human
Origin
Earth
Details
First released in 2005 at the SubCultures: Art of the Action Figure exhibit, the original stock of Rex Ganon 6" (non-Glyos) figures were long thought lost until they turned up in an Ohio warehouse in 2017. Originally manufactured by Plan B Toys and created by Jesse DeStasio.[1]
Story
Bio
REX GANON - The Indestructible Man! A former military type who swore off violence and pays the bills with the odd-mercenary contracts. Rex reluctantly accepts a position to become the leader of the KOTS in exchange for information on his missing colleague, Vaughn Von Braughn.
---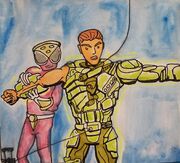 Rex: "I didn't want to lead the KOTS, but Fred has something I need. So for the time being... this is just a job I have to do."
Brick: "Sure dude, that's cool... so listen, I retrofitted this Rift Killer Armor with a few surprises. Including... well... our old leader, Lime. I created a facsimile A.I. based on his digital foot print, and I uploaded it into the flex harddrive. He'll be able to guide you and give you insight into how to beat Teal."
Rex: "So I'll have a dead man's voice inside my head?"
Brick: "Sure!"
---
Murder in Los Angeles
"Rex Ganon, living a quiet life on Sub City, is called to Los Angeles to inspect a murder within the Pizza Shunt corporation. Met by the L.A. Knight, together they team up to solve the mystery and perhaps take in a vegan meal at Gracias Madre or perhaps some nighttime entertainment at Jumbo's Clown Room. They were going to go hiking around Griffith Observatory, but that was wiped out in the meteor strike a few years back."
Gallery
Old Rex
The original Rex Ganon figure (also featured with two newly painted head accessories.) The average cost of the original Rex is $15.
"Rex Ganon: The Indestructible Man, star of Drone Riders, is here for Toy Pizza fans. Standing 6" inches tall, Rex comes with a canteen, 3 pouches, pistol (with real working holster), folding knife/pouch, and one rifle. All the gear is interchangeable amongst the pegs on the belt."
Comic
Malignant Bullet: A Rex Ganon Story: Books 1 + 2 Digital Comic. $1.99 each.
Versions
Rift Killer Rex
Production PVC KOTS Rift Killer Rex figure. Neon Clear Green with Green paint applications. 3 3/4" tall. 12 total parts + bonus head. Released on July 3rd, 2018. $18 each.
A Rex Ganon Bundle (4" Rift Killer Rex + 6" Rex Ganon with bonus random unpainted resin head & Ashcan comic) for $40 and the original Rex Ganon 6" figure (Non-Glyos) for $15.
L.A. Knight Rex Deluxe
Production L.A. Knight Rex Deluxe - Black & Peach with purple armor and cloth jumpsuit. 3 3/4" tall with 10 points of articulation. 19 total parts. Released October 28th, 2018. $20.00 each.
A Gear-up Rex Ganon Bundle (4" KotS L.A. Knight Rex Deluxe + Marauder gear) was offered on January 20th, 2019. $20 each.
"Bundle includes: x2 Marauders Inc. carbines, x1 Stabby sword (grey), x1 Double Barrel Blaster (grey), Tactical belt with random gear to adorn it with, Tier 1 operator soft plastic baseball hat (random color), Miniature Pizza Slice. Some styles and colors may vary in the Marauders Gear."
References
Community content is available under
CC-BY-SA
unless otherwise noted.