Character History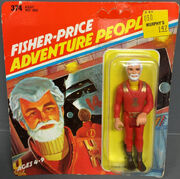 "The inspiration for this wave is heavy on the classic Lego Space theme, with a strong mix of 2001: A Space Odyssey swirled in. Though I do believe that
2001
[1]
(1968) directly influenced the
Lego Space
[2]
(1978) color selections, 2001 may also have been paying a little homage to Mattel's good old
Major Matt Mason
[3]
(1966) as well. Carrying on the time-honored tradition of primary colored spacemen seemed like a natural choice for space geeks like us. Swapping around the colors from this assortment can produce some neat combos, but we wanted you to discover the variety on your own, keeping in line with the great Lego philosophy."
[4]
Gallery
Life on Selogo
Hierarchy
Selogo Colonists Command
Selogo Colonists Members
References
Community content is available under
CC-BY-SA
unless otherwise noted.