Skaterriun Skull Commandos


Faction
Faction
Skaterriun Skull Commandos
Division of
Glyaxia Command
Species
Glyan
Origin
Various
Command
None
Rival(s)
None
Character History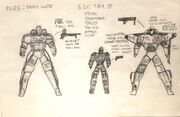 "While working on the Glyan over the past year, I ended up digging through a lot of my old drawings from when I was younger. For some odd reason I felt compelled to review a particular series of scribbles from when I was in 7th grade that I called Skate Wars (shown above). Yeah, the name brings to mind some dudes battling on their skateboards, or maybe even a deadly hockey story. Neither of those things factored into Skate Wars. Apparently I just liked the word "skate" and used it. No deeper meaning, I was just a nerdy little guy (and still am).
Outside of the totally screwy name, Skate Wars had some fairly intense thought put into it for the product of a 7th grade mind. I was still obsessed with all the little details about each character, from height and weight to the type of rank each soldier could achieve.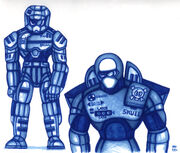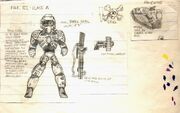 Skate Wars was a futuristic Special Operations Forces Tactical Assault Team or SOFTAT (what the hell?). The designs were inspired by all the Japanese animation bootlegs that I was watching as well as my exposure to tons of Time/Life WW II books. This series of Skate Wars drawings always stuck with me, even after all these years. Being a spaz about hanging onto all my artwork since I was 6 works out pretty good for when I want to look at old junk I made. As I checked out the sketches, an interesting connection between the old me and the current me developed as I studied each paper. I felt like I was getting an assist from 7th grade me as I developed the Glyan figure.
In honor of my utterly bizarre younger mind, I thought it would be fun to dust off some of the older characters and worlds that eventually brought me to the Glyos System and draw them once again, keeping faithful to the original designs. If you think that Skate Wars is weird, wait until you see Bonker[1]."[2]
Story
Skaterriun Skull Commandos - a division of Glyaxia Command.
Skaterriun Skull Commandos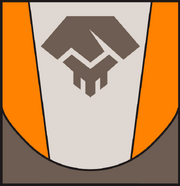 "Emerging from some of the most dangerous and unpredictable trainees ever placed in Glyaxia Command's OTR Programs, the Skaterriun Skull Commandos are a rare breed with a singular purpose.
After the success of Project Black Skull, Glyaxia Command placed a razor sharp focus on identifying more "advanced" recruits within their various OTR Programs through something called the Marivok Directive. Under the umbrella of this Directive, "scientists" ran strange mental and physical tests to push prospective assets beyond what most could ever withstand. Many soldiers were either driven mad, locked away or simply terminated. However, some subjects managed to escape into the darkness of space, carrying with them secret information that Glyaxia Command would do anything to suppress.
Enter the Skaterriun Skull Commandos. Tasked with eliminating severe threats to Glyaxia Command's control of Glyos from within, the soldiers selected for this duty have all passed the most extreme Marivok Directive tests, conquering the difficult OTR Programs with their extraordinary natural abilities and an inborn willingness to break any rule to survive."[3]
Gallery
Hot Walk
Commandos
Hierarchy
Skaterriun Skull Commandos Members
References