Jurassic World: Dominion Dominates Fandom Wikis - The Loop
Play Sound
Story
Sonesidar Defense Force - a division of The Council Of Travelers.[1] Stationed at Frontier Base Alpha.
On Sonesidar
"Check out those Mini Rigs and DSGs getting geared up near their camp, and that flying Hub Drone formation! I especially love the Travelers reviewing what looks like a holo-map. If only they knew what they were getting themselves into...."[2]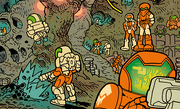 Planet Sonesidar, a pair of Rig Runners approach Frontier Base Alpha quickly for another pass on patrol of the surface. The mud-like harden layered surface of Sonesidar beneath them gives way to more newly manufactured parts as they grow closer. The monster's mouth of the base landing ramp had been built directly into the cliff side for cover under an extending section of cliff rock above.
Deep underground the caverns of Sonesidar being torn apart by excavation Glyans. Hub drones flutter around as busy as bees as a wide array of holes can bee seen from the main cavern of Frontier Base Alpha. "Progress has been steady," noted Sarvos Commander Arclurran. "Yet still too slow, we're running out of time." replied Pheyden Commander Lorsailus. The Pheyden was correct, the attack on The Council Of Travelers was just the beginning of Glyaxia Command's actions against them.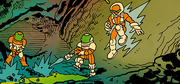 The rock crumbled away as a Deep Space Glyan fired into the ground revealing deep green glow from further below the surface. "Huh? I've found something..." the Glyan called out to his Commanders. "Down in the new tunnel!!!" he added excitedly.
Hierarchy
Sonesidar Defense Force Members
References