Sullkren

Zorennor Exploration Division Commander
Vital statistics
Name
Sullkren
Species
Traveler
Origin
Unknown
Story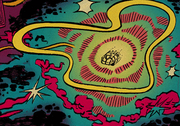 Relgost
Sector, Deep Space Reconnaissance Patrol. "A
Rift
Probe right where they said it would be..." Commander Sullkren commented. If he had been waiting long, it didn't show in his tone. Yet, he could sense something sinister here. The probe door opened, beckoning the Sarvos inside.
"Greetings, Commander Sullkren" the automated voice chimed. The Deep Space Glyan sat dead in the pilot's seat, the skull showing through the face plate. "Activate memory sync." the Commander ordered to the ship's systems. "Activating now." it dutifully replied.
The visual database begand to load. "Can it be... Zorennor?" he pondered as the holo display began to report.
Gendrone Encounter: Sullkren's Path
Glyos United
Zorennor Exploration Division Commander Sullkren
Light Gray/Gray with Light Blue eyes. $8
Sullkren's Path
Commander Sullkren Mk. II
Detail Lined Light Gray/Gray w/ painted eyes, head, chest, pelvis, shoulders, hands and feet and/packed with Light Gray Phanost head, Light Gray Scar Pheyden head, Gray Traveler belt, Light Gray Pheyden head, Light Gray Pheyden chest and Light Gray Pheyden pelvis. $12
References
Community content is available under
CC-BY-SA
unless otherwise noted.