Jurassic World: Dominion Dominates Fandom Wikis - The Loop
Play Sound
Tri Hub Wedge

Upgrade available!
Vital statistics
Name
Tri Hub Wedge
Species
Glyan
Origin
Unknown
Details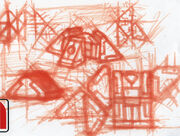 "The general process of creating new parts is a real combo of paper rumbles and mini studies. Ron always pushes me to make smaller test sculpts before jumping into the finished work, especially with the backwards compatibility of what we do. Most of the time I'll follow this method, but sometimes things just come out of nowhere and go straight to the finished prototype.
These new parts were more of a planned meal, due to the measurements needing to be pretty precise so that they would actually function properly. We went through three rounds of test shots before the final production pieces would work correctly. Nailing the new vinyl Switch Pin was possibly the toughest, as it has to hold the whole show together.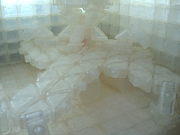 Conceptual sketches are the usual mess of ideas, with a few done after the initial test shots failed to work (like the Switch Pin)."[3]
Tri Hub Wedges are a rare vinyl parts offered in occasional drops made available from Onell Design. Each kit consists of 1 vinyl isosceles triangle that can be customized for connectivity with all Glyos vinyl. They can be combined with existing Core Block, Conversion Kit, Switch Pin, and other large vinyl pieces. The average price of a Tri Hub Wedge is $4.
Glyos United
Tri Hub Wedge Zorennor Exploration Division
Tri Hub Wedge Zorennor Exploration Division Vinyl isosceles triangle - Light Gray/Gray with Light Blue highlights. $4
Tri Hub Wedge Experimental Mechanics Division
Tri Hub Wedge Experimental Mechanics Division Vinyl isosceles triangle - Gray and Orange with Black highlights. $4
Stealth Dimension Division
Tri Hub Wedge Stealth Dimension Division
Tri Hub Wedge Stealth Dimension Division Vinyl isosceles triangle - Clear Colorless/no paint apps. $3
Record of the Delphi
Tri Hub Wedge Task Force Volkriun
Tri Hub Wedge Task Force Volkriun Vinyl isosceles triangle - Pappysoup Green/Olive Green/light green accents. $3
Glyaxia II
Tri Hub Wedge Glyaxia Command
Tri Hub Wedge Glyaxia Command Vinyl isosceles triangle - Blue Vinyl/Yellow Paint with Black accents. $2.50
References