Zerennic

Glyaxia Commander
Vital statistics
Name
Zerennic
Species
Traveler
Origin
Unknown
Story
"Glyaxia Command Block Base, located just above the Planet Alcray, where a crew of Glyans steadily work away on a specialized Crayhunter Capture Skiff..."[1]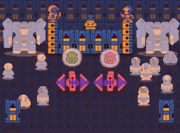 Perched over the flurry of activity,
Sarvos
Glyaxia Commanders
Akurriax
and Zerennic watch the action. "Continue the bio data harvesting, regardless of the risk..." ordered Akurriax. "Commander Akurriax," a standard Protoclone interrupted, "Proceeding with this experiment could result in potentially dangerous side effects for the two specimens." The Commander almost scoffed before answering, "You know full well that the only way to break through a Crayboth's natural mental defenses is to overload its core power regulator... Increase the surge output immediately! We must know what they are trying to hide down there on Alcray."
The machines started to hum. "Understood, Commander. Increasing Hyper Phase Bombardment levels." answered the the little Protoclone. Zerennic paused before speaking, "Perhaps we have given them too much power already?" Akurriax wouldn't hear of it, "We must give to receive..."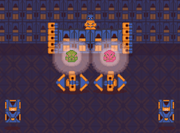 "Wait..." Zerennic started, before pausing again, "I sense something..." Something was there. "...Do you feel that?" The lights went out.
"Commander!" a Glyan shouted, "We are under Gendrone attack on the far side of Block Base and sustaining heavy damage. Please send reinforcements at once!!!" The Rebellion had come to their doorstep.
"Let's move! Prepare for Warp!" quickly ordered Akurriax. The little yellow Protoclone spoke up again, "Commander! What about the specimens? We have already activated the Hyper Phase Bombardment Program..."
"
ZEM
has been abducted!"
Glyaxia Command takes the enigmatic mechanoid through a rift into the mysterious Glyos System. Sensing trouble, Maxx Zero goes undercover, infiltrating Glyaxia Command's Block Base. Once inside, Maxx stumbles upon a nefarious plan - Glyaxia Command has stolen the designs for the Robo Force and intends to create a mechanical army!
To rescue ZEM, Maxx engages in combat with three Elite Glyaxia Clones of Sentinel. Unexpectedly, dynagenesis occurs, transforming the doppelgangers into a brand new ally - Vanguard the Warrior! Possessing three times the strength and power of a Protector Class Robot and wielding a super-charged forcefield blaster, Vanguard the Warrior turns the tables on Glyaxia Command![2]
Glyaxia II
Glyaxia Commander Zerennic
Blue/Yellow with painted eyes, Yellow accents, White tampo and bonus Blue Phanost head/Blue Scar Pheyden head/Yellow Pheyden Belt/Yellow Scarf. $10
References
Community content is available under
CC-BY-SA
unless otherwise noted.